Which is the Best Kitchen Counter Colour to match my White Cabinets?
Wondering which colour kitchen counter goes well with your snowy white cabinets? Emperors Vitrified Porcelain, the No.1
quartz slabs suppliers
in India, is here to help you out.
When it comes to kitchen design, there are two main elements to consider:
The counters
The cabinets
You can either choose the counter first and then decide the right colours for your cabinets or vice versa. If you have decided on white cabinets and wondering which colour goes best with it, you've come to the right place. Continue reading to find the best counters that match like a dream with your white cabinets.
Traditionally, Indian homes preferred darker coloured kitchens, since dark colours do not show stains easily. However, of late, there has been a huge increase in the number of home owners who prefer lighter coloured kitchens. White, ivory, beige, cream – are all the rage right now.
Lighter coloured kitchens are bright and reflect light, making the space appear bigger. White has always been considered as a symbol of purity and cleanliness. White cabinets give you that dreamy look to your kitchen and are a timeless style.
Here are the best quartz counters that go perfectly with your white cabinets: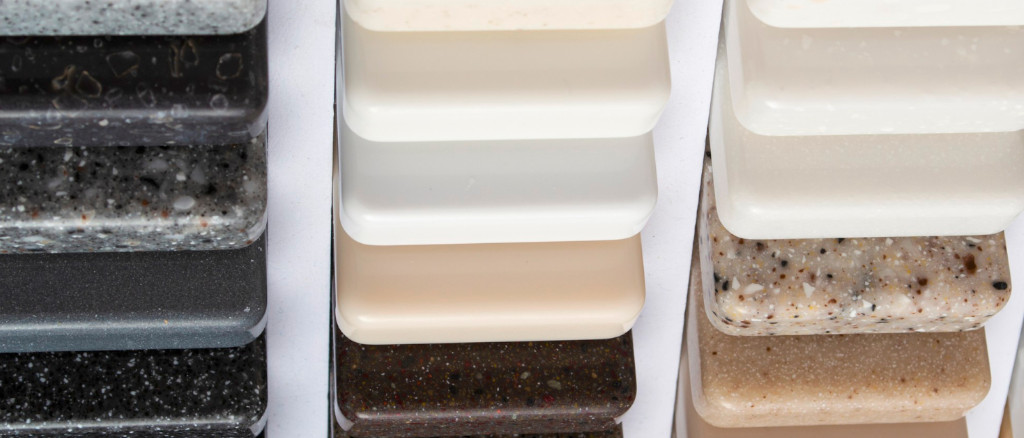 White-on-white is a timeless colour combination. It exudes beauty and grace. White cabinets with white counters add a crisp and clean feeling to your kitchen. If it feels too white, you can add a dash of colour, by using colourful backsplashes. Mosaic, patterned porcelain tiles add a pop of colour to your monochromatic kitchen.
Alternatively, you can choose white quartz slabs with some design on them – like silver speckles or gold veins. This makes your quartz slabs look like marble counters adding a touch of sophistication to your kitchen.
Blue is always a great colour for a kitchen. It exudes calmness and peaceful energy, making your kitchen feel welcoming and inviting. When you combine blue quartz counters with white cabinets, it creates the illusion of a bright sunny day like the cool skies. This is a delightful combination if you are going for a beachy-vibe. Add a couple of potted plants to bring in some green, and your kitchen will make you feel like you are on a tropical vacation.
Alternatively, you can go for a darker shade of blue with your white cabinets to add a sleeker and more refined finish.
The good old combination of black and white never disappoints. When it comes to interior design, black has always been the favourite colour to pair with white. Black counters paired with snowy white cabinets is another timeless, trendy and chic look. What's better is that this combination also matches your kitchen appliances as most kitchen appliances are made of stainless steel today.
Another huge benefit of using black countertops is that they are super easy to clean and do not stain easily. Whether you're looking to make your kitchen modern or conventional, you cannot go wrong with black quartz countertops.
Chocolate Brown and White
Brown is rather an unusual colour for a kitchen countertop. But, if you love the earthy shades of natural wood, then you would be delighted with this combination. Brown counters add a natural eco-friendly vibe to your kitchen. Pairing brown countertops with white cabinets creates a warm aura to your kitchen, making the place feel relaxing and inviting. This is a great choice if you have plenty of wooden cookware and are planning to add wooden floors to the kitchen.
Beige is the superstar of the neutral world of interior design. Beige counters add a regal touch to any kitchen. The beauty of beige is that it pairs superbly with any colour, including white cabinets. Adding beige quartz counters is sure to make you feel like royalty when cooking.
This is another super popular colour combination. White cabinets with grey countertops lend a sleek, industrial ambience to your kitchen. With grey countertops, you get the best of both worlds. The dark mysterious vibe of black and the purity of white. Grey countertops are easy to maintain like regular black countertops.
Adding charcoal grey quartz countertops gives an ultra-modern feel to your kitchen. You can also customise the counter by looking for grey quartz slabs with specks or veins.
If still in doubt, reach out to Emperors Vitrified Porcelain
Irrespective of the colours you choose, using quartz counters in your kitchen is an excellent choice. Quartz is an engineered stone, thus making it extremely durable and long-lasting. Easy to install and easy to maintain, quartz counters make cooking fuss-free.
At Emperors Vitrified Porcelain, we can help you choose the best quartz countertops that match your kitchen colour. Give us a call and our friendly sales team will be happy to assist you.