Emperors Vitrified Porcelain Wall & Floor Tiles Supplier in india
Emperors Vitrified Porcelain Wall & Floor Tiles Supplier in india
SIZES: 60X60, 60X120, 80X80, 80X160, 120X120, 120X240 CM, THICKNESS: 0.8 CM
SIZES: 60X60, 60X120, 80X80, 80X160, 120X120, 120X240 CM, THICKNESS: 0.8 CM
SIZES: 60X60, 60X120, 80X80, 80X160, 120X120, 120X240 CM, THICKNESS: 0.8 CM
SIZES: 60X60, 60X120, 80X80, 80X160, 120X120, 120X240 CM, THICKNESS: 0.8 CM
SIZES: 60X60, 60X120, 80X80, 80X160, 120X120, 120X240 CM, THICKNESS: 0.8 CM
SIZES: 60X60, 60X120, 80X80, 80X160, 120X120, 120X240 CM, THICKNESS: 0.8 CM
SIZES: 60X60, 60X120, 80X80, 80X160, 120X120, 120X240 CM, THICKNESS: 0.8 CM
SIZES: 60X60, 60X120, 80X80, 80X160, 120X120, 120X240 CM, THICKNESS: 0.8 CM
SIZES: 60X60, 60X120, 80X80, 80X160, 120X120, 120X240 CM, THICKNESS: 0.8 CM
SIZES: 60X60, 60X120, 80X80, 80X160, 120X120, 120X240 CM, THICKNESS: 0.8 CM
SIZES: 60X60, 60X120, 80X80, 80X160, 120X120, 120X240 CM, THICKNESS: 0.8 CM
SIZES: 60X60, 60X120, 80X80, 80X160, 120X120, 120X240 CM, THICKNESS: 0.8 CM
SIZES: 60X60, 60X120, 80X80, 80X160, 120X120, 120X240 CM, THICKNESS: 0.8 CM
SIZES: 60X60, 60X120, 80X80, 80X160, 120X120, 120X240 CM, THICKNESS: 0.8 CM
SIZES: 60X60, 60X120, 80X80, 80X160, 120X120, 120X240 CM, THICKNESS: 0.8 CM
SIZES: 60X60, 60X120, 80X80, 80X160, 120X120, 120X240 CM, THICKNESS: 0.8 CM
SIZES: 60X60, 60X120, 80X80, 80X160, 120X120, 120X240 CM, THICKNESS: 0.8 CM
SIZES: 60X60, 60X120, 80X80, 80X160, 120X120, 120X240 CM, THICKNESS: 0.8 CM
SIZES: 60X60, 60X120, 80X80, 80X160, 120X120, 120X240 CM, THICKNESS: 0.8 CM
SIZES: 60X60, 60X120, 80X80, 80X160, 120X120, 120X240 CM,
THICKNESS: 0.8 CM
SIZES: 60X60, 60X120, 80X80, 80X160, 120X120, 120X240 CM,
THICKNESS: 0.8 CM
SIZES: 60X60, 60X120, 80X80, 80X160, 120X120, 120X240 CM,
THICKNESS: 0.8 CM
SIZES: 60X60, 60X120, 80X80, 80X160, 120X120, 120X240 CM,
THICKNESS: 0.8 CM
SIZES: 60X60, 60X120, 80X80, 80X160, 120X120, 120X240 CM,
THICKNESS: 0.8 CM
SIZES: 60X60, 60X120, 80X80, 80X160, 120X120, 120X240 CM,
THICKNESS: 0.8 CM
SIZES: 60X60, 60X120, 80X80, 80X160, 120X120, 120X240 CM,
THICKNESS: 0.8 CM
SIZES: 60X60, 60X120, 80X80, 80X160, 120X120, 120X240 CM,
THICKNESS: 0.8 CM
SIZES: 60X60, 60X120, 80X80, 80X160, 120X120, 120X240 CM,
THICKNESS: 0.8 CM
SIZES: 60X60, 60X120, 80X80, 80X160, 120X120, 120X240 CM,
THICKNESS: 0.8 CM
SIZES: 60X60, 60X120, 80X80, 80X160, 120X120, 120X240 CM,
THICKNESS: 0.8 CM
SIZES: 60X60, 60X120, 80X80, 80X160, 120X120, 120X240 CM,
THICKNESS: 0.8 CM
Porcelain tiles are the perfect blend of both style and practicality. Not only do porcelain tiles withstand the hustle and bustle of day-to-day movements, but these tiles also offer a smooth and elegant look that's perfectly suited to your stylish interiors.
| | | |
| --- | --- | --- |
| Hard Wearing | Resistant to Scratches | Water-Resistant |
| Stain Resistant | Easy to Clean | Resistant to Bacteria |
| Huge Range | Indoors and Outdoors | Long-lasting |
Explore Wall and Floor Tiles Collection Download FREE Product Catalogue
Every day is a spa day, with the best porcelain bathroom wall tiles!
Your bathroom is your private zone of relaxation and rejuvenation. It's the place to unwind and wash away the stresses of everyday life. Don't your bathrooms deserve the best? Choose from our wide range of contemporary and traditional bathroom tiles and create the bathroom of your dreams.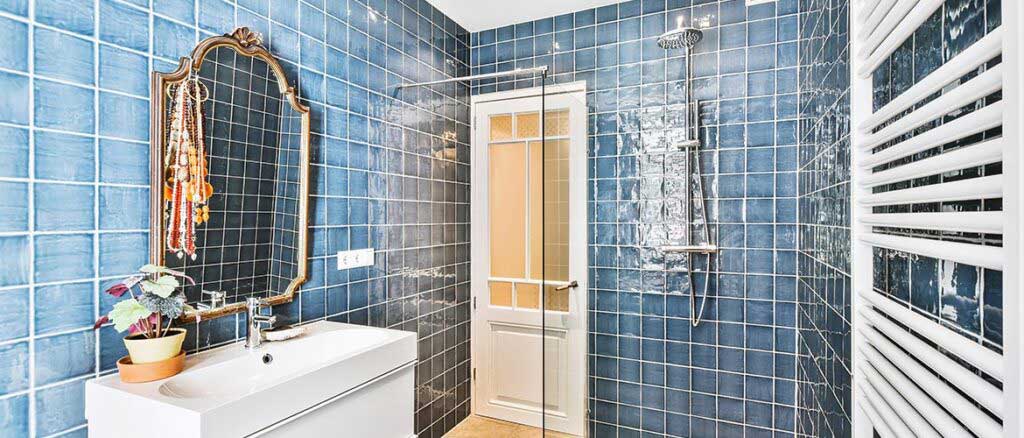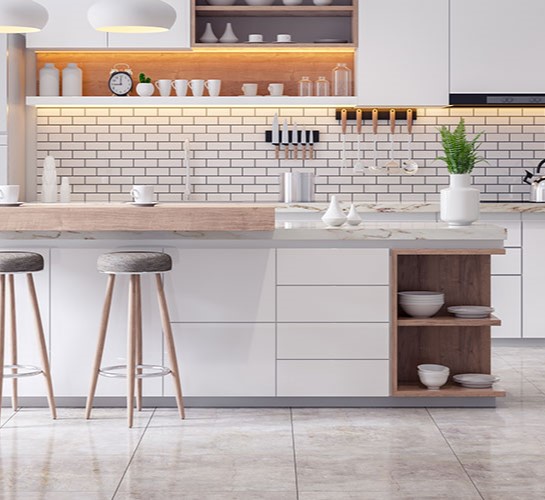 Practicality + Design – Get the best of both worlds with porcelain kitchen wall tiles!
Lining your kitchen walls with porcelain tiles is more than a design statement. It also keeps your kitchen walls protected from food spills, grease stains and heat. Easy to clean and easy to maintain, porcelain wall tiles are an excellent choice for your kitchens. Browse our collection of a wide range of kitchen tiles, and create the kitchen of your dreams.
Emperors Vitrified Porcelain is the no.1 porcelain wall tiles supplier in India. We have diverse wall tiles for kitchens, bathrooms, living rooms, hallways, and more. Get in touch with our team to enquire about product pricing and check availability.
Frequently Asked Questions
Can I use porcelain floor tiles on my walls?
Yes, floor tiles can be used on walls. But the converse is not always true. Generally, wall tiles are not made for load-bearing and cannot bear the weight of foot traffic. On the other hand, if you come across a floor tile design you like, you can use it on your walls without any issues.
2. Can porcelain tiles be used in bathrooms?
Yes, porcelain tile is a popular choice for bathrooms as it is non-porous and doesn't absorb water easily. Porcelain tiles also offer greater stain and water resistance, making them an ideal choice for bathrooms, kitchens and other water-prone areas.
3. What is a good price for porcelain tiles?
Porcelain tiles are available at a wide range of prices depending on quality, size and design. The average price of porcelain tiles ranges from Rs. 200 to Rs. 500 per box. Premium tiles may cost a bit more. To know the exact price of your preferred porcelain tile, drop us an email, and our team will help you out.
4. Do porcelain tiles crack easily?
No. Porcelain tiles are one of the toughest flooring options. They are solid, dense and hard and resistant to heavy stresses and wear and tear. They can withstand heavy footfall, making them suitable even for commercial applications.
5. Can I replace a damaged porcelain floor tile?
Generally speaking, porcelain tiles are incredibly sturdy and do not damage easily. If any damages occur, it's possible to remove and replace only the damaged tile without affecting the other tiles. It's a good idea to order a couple of extra boxes of porcelain tiles during installation so that you can replace them if any damages occur down the line. This ensures that you have similar tiles in hand for replacement.
Authentic Textures, Stylish Designs – Bring Home the Magic of Porcelain Floor and Wall Tiles
Porcelain tiles are perfect for areas that see plenty of foot traffic. Hardwearing, these tiles add beautiful aesthetics to your home, office or any other commercial zone. Porcelain tiles are non-porous. They do not absorb water, stains and spills, making them the ideal flooring for rooms where spillages frequently occur, like kitchens and bathrooms.
At Emperors Vitrified Porcelain, we have a vast collection of premium porcelain tiles that mimic the look of natural stones. Whether you are looking for stylish porcelain tiles that resemble marble or granite or need contemporary modern porcelain tiles for your floors and walls, we've got you covered!
Get in touch with us today, and find out how you can transform your interiors and exteriors with the best porcelain wall and floor tiles supplier in India.