Everywhere we turn – vitrified tiles are gaining popularity. From high-end homes to malls, shopping complexes and other commercial establishments, vitrified tiles are used everywhere.
As one of the leading vitrified floor suppliers in India, Emperors Vitrified Porcelain is here to give you a quick run-through of vitrified tiles. This guide will give you answers to all your queries on vitrified tiles – what are they, advantages, disadvantages, where to use them and more.
First things first,
What are vitrified tiles?
Vitrified tiles are made by blending fine materials like silica and clay. It's an excellent alternative to marble and granite floors. It's highly water-resistant, making it an ideal choice for outdoor applications. Vitrified tiles are weather-resistant and can withstand extreme weather – rain, sun, sleet, snow and frost. They are also extremely durable and stain-resistant, making them an ideal alternative to natural stone floorings.
Common Types of Vitrified Tiles in India
Vitrified tiles can be divided into the following categories. You can choose the right tile based on your application:
Full body tiles – These tiles are coloured throughout the body, making them perform well against cracks and scratches.
Digital tiles – These tiles are printed digitally. Hence, the design and colour of these tiles are high-definition, compared to regular tiles.
Glazed vitrified tiles – These tiles have an extra coating of varnish, thereby they look really glossy and shiny.
Double charge vitrified tiles – These tiles are produced by a digital press that imprints contours on the face of the tile. These tiles have a double layer of pigments, and are denser compared to standard vitrified tiles. These tiles have extremely long lifespan and are suitable for areas with heavy footfall and commercial spaces.
Polished vitrified tiles – As the name implies, these tiles are highly polished and have a glossy and shiny finish.
Why choose vitrified tiles for your home?
They have a smooth finish, making them scrape and fade resistant.
Highly resistant to water, stains and dirt.
Super easy to maintain.
Ideal for both interior and exterior surfaces.
They are a great alternative to natural stone floors.
They work well for residential purposes and can withstand daily wear and tear.
This is a frequent question that we get from our customers. We'll clarify the distinctions between these two tiles in this section.
What's the difference between ceramic and vitrified tiles?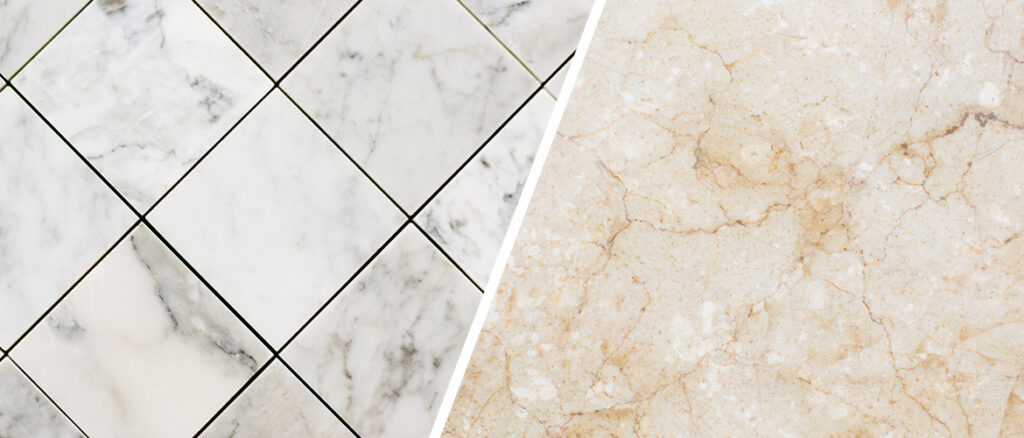 When choosing tiles for homes, most homeowners consider the two main choices: ceramic and natural stone tiles. Ceramic tiles can be further classified into original ceramic, porcelain, and the less known vitrified tiles. Even though vitrified tiles are a sub-category of ceramic tiles, there are distinct differences between both.
| | |
| --- | --- |
| Ceramic Tiles | Vitrified Tiles |
| Ceramic tiles are made using natural clay, that is mixed with water. | Vitrified tiles are made using finer particles like feldspar, silica, and quartz. These elements create a glossy glass-like structure inside that is water-resistant. |
| The water absorption rate of ceramic tiles is 3% to 7%. | The water absorption rate of vitrified tiles is just 0.5%. Hence, they are highly water-resistant and suitable for water prone areas like bathrooms, kitchens, exterior corridors, etc. |
| They cost lesser than vitrified tiles. | Vitrified tiles have a higher price tag than ceramic tiles, but they are worth the extra cost. |
Advantages of Vitrified Tiles
Strong and homogenous
Resistant to scratches
Hard and durable
Stain and spill resistant
Ideal for indoor and outdoor applications
Consistent texture, design and pattern
Easy to install
Easy to maintain
Disadvantages of vitrified tiles
Slightly more expensive than standard ceramic and porcelain tiles. But the advantages of these tiles make them worth the extra cost.
Emperors Vitrified Porcelain is the N0.1 vitrified supplier in India. We stock a huge collection of vitrified tiles in a variety of categories and finishes. Get in touch with our sales team to find the perfect vitrified tiles for your home or commercial establishment.