Tile flooring is among the classy flooring options with an ever-rising market demand. The flooring comes in a wide range of colors that blends fantastically with nearly all the stylish interior décor. But they tend to accumulate grime and dirt easily which requires regular cleaning. Waxing is one of the most popular ways to protect your tile floors to prevent it from scratches and stains. But wax coating can make your floors sticky or slippery. The wax coating also adds a distinct coating on your floors dulling them a bit.
The best part is, there are other ways to make tile floors shine without wax; you can consider using a high gloss tile sealer, a steam mop does the job quickly, a combination of ammonia and water solution also works the magic. As a reputed vitrified floor tiles supplier in India, we have put together this simple guide on shining your tile floors.
1. Sealing Your Floor Tiles With High-Gloss Tile Sealer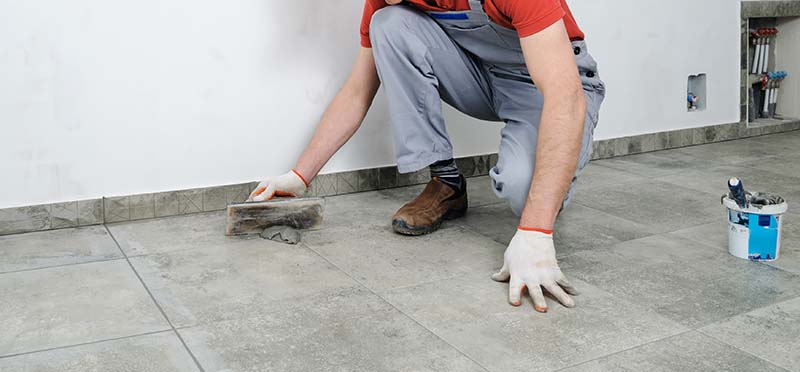 This type of sealer is formulated from a blend of water-based acrylic polymers. Apply a high gloss tile sealer after cleaning your tile floor using any of the natural remedies mentioned above; this will give you high shine without the mess.
2. Ammonia And Water Solution
A simple solution of ammonia and water is used to clean tile floors. Generally, a ratio of 1 parts of ammonia with 8 parts of water works really well. This solution is non-toxic, inexpensive and easy to use. The tile floor should be cleaned every 3-4 months using a solution of ammonia and water, and the solution should be thoroughly rinsed off. This solution greatly helps in cleaning the floor as well as removing the dirt and stains. It is best to use this method in the winter and in the cold seasons.
Find high quality floor tiles from Emperors Vitrified Porcelain, most sought after vitrified floor tiles supplier in India.
A steam mop is equipped with a tank with water generates steam which is then sprayed over the tile floor. This is a useful tool to clean tile flooring if the tile flooring is dirty as the steam mop will remove even deep spots of dirt.
Baking soda paste is a great cleaning agent to use on tile floors and grouts to clean and brighten them. This is a great and inexpensive way to clean tile floors. All you have to do is mix one cup of baking soda with a cup of water. Once this mix is thoroughly blended you can apply it to the tile floors that need to be cleaned. Then let it sit for about thirty minutes before mopping it up with warm water and a sponge.
Our sales team, as part of a reputed vitrified floor tiles supplier in India, can help you find the best tile flooring for your space to make it absolutely gorgeous!
Vinegar is a popular and effective household cleaner. It works by breaking down dirt that comes into contact with it. Vinegar is a commonly available cleaning product in every household, which helps give tile and grout a shiny and new look. To clean a tile floor, mix equal parts vinegar and water in a bucket, then apply to the surface and let sit for 20 minutes before rinsing.
6. Simple Cleaning With Soapy Water
Soapy water is the easiest way to clean a tile floor. A simple way to clean and shine the tile floors is to use soapy water diluted with enough water to be able to use the mop. For stubborn stain, you can use liquid soap directly on the stain, let it sit for around 10 minutes, and use a brush to scrub off the stain. This is one of the most non-chemical ways of cleaning tile flooring.
Tile flooring are gorgeous and simple to care for and maintain. The floor itself is one of the most versatile surfaces in your home; whether you use it for your kitchen, bathroom, or even the patio, you can improve its appearance and functionality. If you have tile flooring in your house, and you want to do some home improvements, you can make them shine and look new without waxing.
We at Empire's Vitrified Porcelain value quality and service and strive to be the best vitrified floor tiles supplier in India. You can find a wide range of floor tiling options with us; Have a choice between standard and high standard tiles, and may choose from a wide range of designs, colours, and sizes. The cost of these tiles proves to be competitive, and they can be availed at an affordable rate. Call us or email us to set a consultation with our design team to find the best floor tiles for your home.